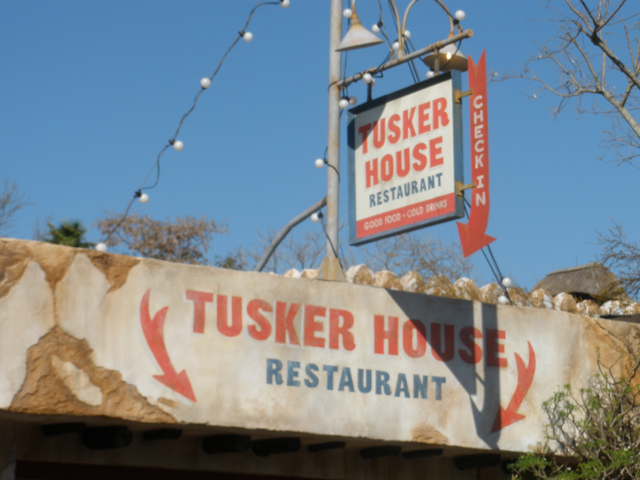 Photo courtesy of allergyfreemouse.com and by courtesy I mean I googled it.
Around our house, our favorite meal is always breakfast. I don't know if it's because after sleeping all night everybody is in a good mood or simply because everything is better when it starts with bacon and gravy, but if it's an "all you can eat" buffet of breakfast we will shut that joint down. Unless, it seems, it's breakfast food with an African flair.
Photo from ellerimviajante.com.br but let's face it, they probably got it somewhere reputable.
Let's start with that African flair. As you approach Tusker House, don't be surprised to hear the sounds of dishes being washed, music coming from the open windows and an overall sense of business. That's because DIsney pipes in these sounds from the windows of empty rooms or off the rooftops or from any number of hidden speakers. All of this enhances the cosmetics of the building which is adorned with banners and signage that seems weathered and worn by the harsh African weather coupled with evidence of a war or battle many years before. From the cast members working the check in podium to the staff of servers filling your drinks, everyone is wearing authentic garb and oh so accommodating. Once inside, Tusker House has a very open feel. The buffet area is split apart from the seating areas. Again, African decor abounds. Look at the walls for neat signs and maybe even some story cues from some of the rides in the park. But seriously, nobody gets up before sunrise to ogle architecture. Unless you're a lunatic. Which we are...but we're hungry lunatics. So let's talk FOOD.
Photo yanked from eatingwdw.com because I only took photos of characters during my trip.
Lots of breakfasty food on the buffet line. Which, keeping with theme, is separated out on little market carts that house all the warming trays. It was kinda cool...but yea, food. Naturally Tusker House has the basic breakfast stuff like eggs, sausage, Mickey waffles and the like. It's the other stuff that makes it interesting, and also made my kids turn their noses. My favorite was the traditional South African dish Beef Bobotie. It's kind of a spiced egg casserole like a quiche with savory sausages and some veggies thrown in. It's unique, and certainly not something you'll find over at Chef Mickey's. Something else you won't come across at other buffet's is their amazing bread pudding. It comes paired with an amazing sugar infused sauce you drizzle on it and just omnomnom....
It's called Donald's Safari Breakfast for a reason.
The real star of the show at Tusker, and something I wish I had right now, is their signature drink: Jungle Juice. I ordered a coffee but this is gratis like chips and salsa at a Mexican restaurant. They come by with glasses and a pitcher and just pour it before you even get a drink order in. It's so good. I read a recipe for it somewhere but it looks like it would cost me about $13 to get the stuff just to make a glass (it would yield more than that but still). It's a concoction of orange juice, passion fruit juice and guava. Really...it's like the Dole Whip of Animal Kingdom. Although I believe a nearly identical drink is available at 'Ohana for breakfast but
our trip to the Polynesian resort
was last night.
Mickey made the trek from the Magic Kingdom.
Like any other character meal, the characters stop by each table one at a time. If you catch it when it's not too busy you can interact with them more than once during your meal. At about the third time Goofy grabbed my son's ipod and took a selfie it got a little old. I mean, Goofy, give it up. You're not even a real animal let alone a Kardashian.
Give kids various percussion instruments and have them run around a restaurant. Call it a "parade".
A really neat thing that happens here is the character parade that takes place during the meal.
[SIDEBAR - I had stepped out to the bathroom when this eruption of organized chaos broke out. I will now explain my only true issue with Tusker House. The location of the bathroom. You nearly leave the restaurant entirely to get to it. I'm sure it's to keep the magic going because I guess in Africa you just go wherever but still. ]
Of all the ridiculous outfits the characters were in Goofy's was my favorite.
The ensemble of characters at the meal lead the kids (and maybe some olds) around in a conga line of sorts. This snake slithers all throughout the dining hall to the music booming on the overheads. Now, just to make sure you couldn't hear yourself think, the kids are also handed out musical instruments native to the locale. Yup. To get through this just pour another jungle juice and kick back 'cuz this will take a while. Or better yet, grab a plate and find some more of that bread pudding....
My oldest son, Ricky and Donald quacking smiles.
Tusker House at breakfast ended up being a pretty easy dining experience. Our server was prompt and courteous throughout our meal, even bringing my 8 year old a birthday cupcake and a card signed by all the characters. Again, the decor was awesome, from the distressing work done to the plaster on the walls to the colorful fabrics strung in the ceiling to simulate the market feel. It was great. The food, if you can convince yourself to leave the waffles and sausage alone for a minute and try something new, was unique. The best part of this experience for me was when I made small talk with one of the character "handlers" (these will be the cast members that wear the water bottle in a holster, usually seen within 10 feet of a character). I asked her of all the characters, which one was most difficult to keep reigned in. Her reply:
"Without a doubt it's Daisy Duck. She's such a diva!"
Let's play spot the diva!